How to give your new restaurant a technical edge
How to give your new restaurant a technical edge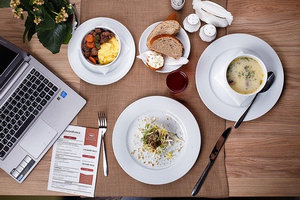 Starting your own restaurant is an exciting and at the same time extremely demanding business. As with all start-ups, there are a lot of things to consider for restaurateurs if the company is to establish itself quickly and soon be in the green. A realistic and well thought-out concept is required, a trade license must be applied for and, last but not least, the restaurant permit must be available. Insurance companies want to be taken out in order to be covered as comprehensively as possible against possible damage in the event of an emergency. Financing is often used, which requires the creation of a complex business plan.
All of these things and more have to be done in advance and cost time and energy. Nevertheless, one important thing must not be forgotten: the right marketing to achieve the reach that is required for the large project. With a Restaurant website is one of the most helpful steps taken to put yourself and your business in the right light and to address people everywhere. It doesn't have to be a simple digital business card, a homepage nowadays offers many other possibilities to advance your business. The following lines reveal how the technical advantage can otherwise be used.
Why a website for your own restaurant?
The advantages of a website for your own restaurant are obvious: It gives the reader the necessary background information about the location and provides the contact details. But that's not all, it gets even more interesting with regard to the presentation of your own business. It is possible to present the best aspects of your hospitable restaurant with images and sound, such as the menu and drinks menu, appealing photos of lovingly prepared desserts and insights into celebrations that have already taken place in a wonderful atmosphere. A virtual tour of the restaurant is also possible, during which the staff can watch over their shoulder with a few skillful video recordings or pictures while they are working.
A website created this way can create a feeling of familiarity upon viewing and put the business in perspective. After all, who doesn't like to eat with friends? The company's own homepage gives the company a clear profile that makes it unique and has a high recognition value. It should therefore be designed as clearly as possible and present a harmonious overall picture. Her name also wants to be unmistakably connected to the restaurant or its owner. But apart from the aspect of self-presentation, the general technology has other advantages for the new business. In this way, many processes in daily working life can be digitized that would otherwise cost a lot of attention and time. For this purpose, software is available that generates automated processes that simplify many processes of daily routine. This ensures that everything is running according to the latest standards and that the competition is not a serious threat. Those who save energy and time not only enjoy a more balanced state of mind, they also have fewer worries about finances and the prospect of long-term success. The advantages of a website in detail:
it gives interested parties current insights into the restaurant and current promotions
Employees of the company are given the opportunity to introduce themselves in this way and to create a feeling of familiarity in the audience
A virtual tour of the restaurant makes potential new guests want to visit
the menu and drinks menu can be viewed online
Table reservations and registrations for celebrations can be made online
Promotion of special offers such as lunch and brunch
Ability for customers to place orders
an online guest book provides the necessary references
Additional technical tools also make it easier to manage employees' tasks. They can view their duty roster via special programs and those can be changed by the manager or the person responsible. Start and end times can also be entered digitally and the total working time calculated. Accounts are very easy to create with the appropriate tools, which not only saves time, but also prevents unnecessary errors. These are just a few examples of areas in which technical aids can give a valuable edge in restaurants.
Don't let any precious opportunities go by
Today's technical possibilities are a clear blessing in many areas. They help to simplify processes, save time and effort, keep the necessary overview and clarify discrepancies more easily. Various programs and systems allow structures that seemed unthinkable futuristic just a few years ago. Many innovations have also happened in the field of marketing. Nowadays, setting up your own website is not only extremely easy, but can also be designed individually and practically. It serves as a business card and representation for the philosophy of a company and comes up with impressive applications. With the help of multimedia tools, a future guest sitting at home in front of his PC can take a short tour of the restaurant and see the current offers in a tasteful way or reserve a table online. So if you want to start your own business as a restaurateur, you should definitely write the creation of a suitable homepage on your list!
10.11/2021/XNUMX - mh