The best notebook for the home office
Buy a notebook for the home office
Provided by ImpulsQ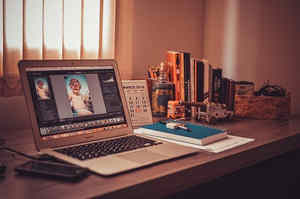 The home office has grown in popularity significantly in recent months. The number of those people who do their work permanently or at least temporarily in their own walls has increased by leaps and bounds. We can no longer speak of a temporary phenomenon here. Therefore, the equipment should also be placed on a professional footing. Above all, this includes a correspondingly powerful notebook.
Which notebook is suitable for working in the home office?
The selection of a suitable notebook always depends on the subsequent tasks to be carried out with it. Most people do not need extensive special programs to get their work done. In any case, the standard equipment includes a corresponding office package consisting of a word processing program, a spreadsheet and a tool with which presentations can be created.
It doesn't always have to be Microsoft software. Are on the market numerous alternatives to Microsoft Office such as LibreOffice, OpenOffice or the G-Suite from Google are available. In most cases, these are not only cheaper, but also often more resource-efficient. This means that they also show an appealing performance with a lower processor performance.
Above all, those people who also have to work in the home office with complex graphics or video programs such as Photoshop or Premiere from Adobe need a notebook with a correspondingly powerful processor, a suitable graphics card and a screen with high resolution. For example, for working with Photoshop, Adobe recommends an Intel® or AMD processor with 64-bit support, a graphics card with DirectX 12 support and 4 GB of GPU memory for 4K screens and a monitor resolution of 1920 x 1080 pixels.
Where can I get notebooks at fair market prices?
With the many offers that flutter in the house mail every week, the forest is sometimes no longer recognizable for the trees. It is often difficult for the layperson to recognize at first glance whether these are actually bargains or whether some retailer wants to get rid of his old stock.
Bargain portals on the Internet, such as "My Deal", are a great help in finding really good offers. There will be the best notebook deals in a separate section summarized and clearly presented. The big advantage: These offers have been checked by the experts and are only published on the platform if they are actually a real bargain. Fake offers have no chance here.
For example, the platform currently features the Huawei Matebook X Pro 2020 with the i5 processor from Intel, 16 gigabytes of RAM and an SSD hard drive with 512 gigabytes of storage space for only 999 euros including shipping costs instead of the list price of 1.203 euros. With the built-in GeForce MX250 graphics card and a screen resolution of 3.000 x 2.000 pixels, this notebook is also suitable for more computationally intensive processes and programs.
What minimum requirements should the notebook meet in the home office?
Even if the notebook is only used to create simple documents with Microsoft Word or to prepare reports and calculations with Excel, the notebook should meet different minimum requirements. Those who save here often regret it, because inferior processors are often built into particularly inexpensive devices. As a result, there can be long waiting times when the applications are opened. As soon as several programs are open at the same time, the performance drops rapidly.
A simple business laptop should therefore meet at least the following requirements:
Operating system: If you rely on Microsoft, you should definitely opt for a notebook with Windows 10. Other operating systems such as Windows 7 or 8 are now considered obsolete and are not maintained by Microsoft with the corresponding effort. There are also numerous on the Internet Tips and tricks for using Windows 10that can make the work easier and faster.
Processor: The current minimum standard is the AMD Ryzen 5 or the Intel Core i5
Random access memory: Even if there are still numerous notebooks with 4 gigabytes of RAM, it is better to use an 8 gigabyte model right away. In a pinch, the RAM can also be upgraded if the notebook turns out to be underperforming.
Screen size: If you don't want to connect an external monitor, you should at least opt ​​for a 17-inch screen so as not to ruin your eyes and to find enough space on the screen for all applications.
Screen resolution: If you buy a new laptop, it is best to choose a device that offers at least a resolution of 1.920 x 1.080 pixels.
Hard disk: In the age of cloud storage, the storage capacity of the hard drive is becoming less important. In any case, SSD hard disks ensure significantly higher processing speeds than HDD disks. At least 500 gigabytes should be able to be stored on it. This makes it easy to install the required software and there is still enough storage space left for data.
Which accessories are recommended for the notebook in the home office?
Anyone who works permanently from home with a notebook should definitely consider buying an external monitor. The big advantage: With Windows 10 it is very easy to make the settings so that both the internal screen of the notebook and the external monitor can be used together. Anyone who has ever worked with two screens often does not want to be without this luxury anymore.
In addition, an external keyboard is much more convenient. This acquisition is therefore very useful for all those who have a lot of paperwork to do. Mainly because simple, good quality keyboards can be bought in various online shops for as little as 10 to 20 euros.
If you order a keyboard, you should also add a suitable mouse to the shopping cart. A little tip: Wireless keyboard and mouse sounds great at first, but it also means higher maintenance costs, since the tools have to be loaded regularly or the batteries have to be replaced.
From time to time, even in times of paperless offices, it is still necessary to print out documents. If you don't need color printouts, a simple laser printer is best. This offers consistently good print quality with low printing costs at the same time.
Provided by: Pexels / Pixabay.com
(mh) 24.06.2021/XNUMX/XNUMX