The solution for all iPhone and iPod users to copy music from the device to the computer.
Apple's restrictions prevent music copied to the iPod or iPhone from being backed up to the computer.
SharePod ends this dilemma and offers functions to circumvent this "protection".
The pieces of music can be conveniently selected and then transferred to the computer at the push of a button.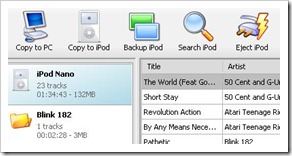 SharePod recognizes an iPod or iPhone connected to the computer and lists the songs on it. These can then be sorted and copied. New playlists can also be created.
What can I say, SharePod is a "must have tool" and doesn't even cost anything.
Access.
Owners of an iPhone or iTouch can easily start SharePod from their computer.
Anyone who has an older iPod (Shuffle, Mini, Nano, Classic) can start SharePod directly from the iPod.
{jumi [plugins/content/jumi/ads_download.php]}
SharePod
Version
License
Author
System
Language
filesize

3.9.6


Freeware


getsharepod.com

Windows XP,
Vista, 7


English


6 MB

Please rate this download

{vote 1}