The free AutoBackup for Word is very well thought out and helps you if a Word file has accidentally been deleted. This is arguably one of the worst cases that can happen to you while working with Word.
The little tool notifies you with a sound when a backup has been created, if set in the settings. It automatically saves the older version as a backup and names the file accordingly.
Here is a guide to setting up SmartTools AutoBackup: Word 2010: Create backup file automatically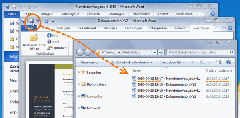 During the installation you will be asked to enter a valid email address.
{jumi [plugins/content/jumi/ads_download.php]}
SmartTools AutoBackup for Word
Version
License
Author
System
Purchase price
filesize
2.0
Freeware
smarttools
Windows and Word 2010
2007, 2003, 2002 and XP
-
2,6 MB

Please rate this download
{vote 1}