BackUp Maker - backup data easily

Creating backups made easy
You only notice how important data backups are when an emergency occurs. Good for those who have taken precautions and have an up-to-date backup ready. Whether on USB, CD / DVD or an FTP server, BackUp Maker saves all data in a convenient, space-saving zip format. The data backups can be automated and, if necessary, encrypted.
BackUp Maker is free in the standard edition for private users and offers everything you need to back up data.
Once backups have been set up, they can be carried out fully automatically at predefined times in order to slow down the normal operation of the computer.
The backups can be saved in a folder or, better still, on external storage devices such as USB devices, CD / DVD (without additional burner drivers) and, thanks to network support, even on an Internet server via FTP connection. If you like it very safe, you can also protect the data backup with a password.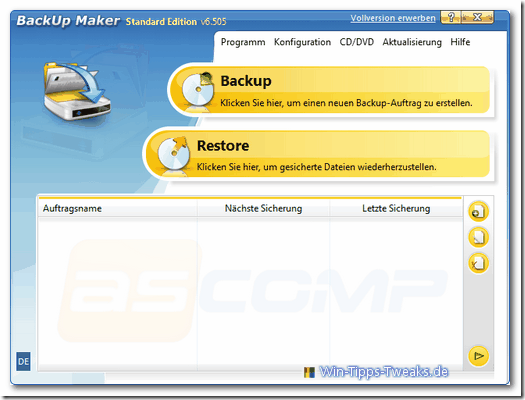 Thanks to the Pkzip 4.5 support, archives larger than 4 GB are no problem.
If necessary, these can be split, i.e. into parts of a selectable size.
There are a number of types of backup available
Full backup: Backup of all selected files and folders
Partial backup: Backup of new / changed files since the last partial or full backup
Backup of changed files: Backup of new / changed files in a freely definable period
Combined implementation: Combine full and partial backups
Archive bit backup: Back up only files with set archive bit / remove archive bit
Backup generations: Creation of multiple backup instances / generations
Backup Maker
version
License
Author
System
Language
filesize

6.505

Free standard version
for private users
ascomp.de

(32/64 bit)
Windows 7 / 8
Vista, XP,
Server 2008,
-
server 2003

German
multilingual

6,42 MB