Who doesn't know the problem with the desktop icons? For example, on notebooks with external monitors, the order of the desktop icons can quickly become confused. The freeware program helps against this DesktopOK.
DesktopOK saves the positions of the desktop icons and restores them if required. You can even create multiple profiles.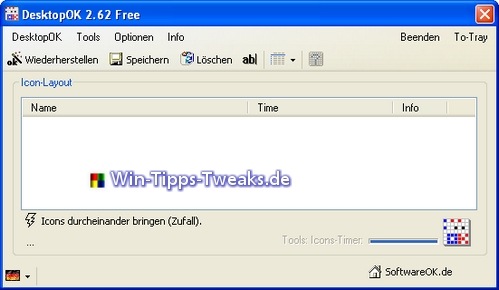 A time interval for saving can be set under Option> Auto> Save or simply save on shutdown.
DesktopOK does not need to be installed
{jumi [plugins/content/jumi/ads_download.php]}
DesktopOK
Version
License
Author
System
Purchase price
filesize
2.6
Freeware
software ok
Windows 7 / Vista / XP
98
-

0,08 MB 32 bit
0,17 MB 64 bit

Please rate this download
{vote 1}