The freeware Fat32Formatter overcomes the limit of 32 GB and can format drives over 32 gigabytes with FAT32.
Download
Fat32Formatter
"The freeware formats drives over
the limit of 32 gigabytes as FAT32 "

Fat32Formatter not only formats internal and external hard drives, it also supports the formatting of USB memory sticks and memory cards (SM / xD / SD / MMC / MS USB device).
We recommend creating an NTFS partition of the desired size, which is then deleted with Fat32Formatter and then formatted into a FAT32 partition.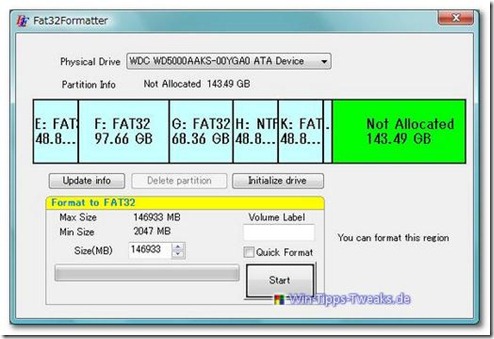 {jumi [plugins/content/jumi/ads_download.php]}
Fat32Formatter
Version
License
Author
System
Language
filesize

1.1

Freeware
Tokiwa

Windows 2000 /
XP / Vista / 7

English

183 KB

Rate this download
{vote 1}