Cloud gaming the future of video games?
Is cloud gaming the future of video games?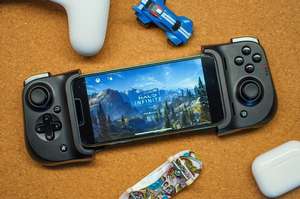 Provided by ImpulsQ
The times when you played the blockbusters of the gaming world on the console or in front of the PC are over. Thanks to ever better and faster broadband and fiber optic expansion, gamers can now play their favorite games on mobile devices at any time, even when they are on the go. This does not require modern and powerful hardware. Games are simply streamed via different providers. The games run on external servers or data centers and can be played from anywhere there is internet access.
Why Cloud Gaming?

The smartphone is currently the most popular gaming medium and also one of the most popular mobile platforms for cloud gaming. However, there are big differences between the different providers. Android users have a much larger selection of cloud streaming services than iPhone users. The reason for this is, among other things, strict requirements in the App Store.
Cloud gaming can also be played simply via the browser. Not every complex game and not every provider with an extensive portfolio is dependent on cloud gaming. For example, online casinos work on just about any device even without a cloud gaming provider. Online gambling is mostly web-based, which means that the player does not need to install any software, but can play via the web server on the casino site. the best online casinos offer both web-based versions and their own apps. The impressive number of games here has no negative impact on the gaming experience. Anyone who wants to play graphically complex action games and would like to have a wide selection of them available at all times will benefit from cloud gaming.
For many users, the greatest advantage lies in the flexibility, both in terms of the portfolio and the end device. An expensive gaming computer with the best hardware is not necessary and the smartphone does not have to be the latest gaming model. Another advantage is that with cloud gaming, all game data is also securely stored and managed externally.
Different providers
There are now quite a few cloud gaming providers. These differ significantly in price and range. The possibility of a monthly flat rate can help here when choosing the right provider. PS Now and Xbox cloud gaming are at the forefront of these models. The player pays for a subscription and automatically has access to a large selection of different games. In addition, the streaming platform can be connected to a controller, which simplifies control.
The counterpart to the flat rate model is Google Stadia. Google Stadia is its own distribution platform. Users can choose exactly which titles they pay for. There is also a hybrid solution between a flat rate and a sales platform. In addition to flat rates, Nvidia Ge-Force Now also offers the option of purchasing individual titles. However, it can sometimes happen that new games are not released on time on the release date. In addition, the fun of playing with a fluctuating Internet connection stalled. This is very annoying, especially in multiplayer games, since an input delay becomes a disadvantage. Some providers try to counteract this delay by streaming the graphics in a lower resolution.
Cloud gaming certainly offers new possibilities for gaming. However, there are still some shortcomings that vendors need to address. Cloud gaming is a real alternative to the often expensive hardware and is a mobile solution to get unbound access to games.
Photo credit Ryland Dean on Unsplash
06.04.2022/XNUMX/XNUMX - mh