Office 2010: Compress documents with pictures

If you add several images to an Office document, the size of this file can quickly become very unwieldy. In this case there is for Word, Excel and Power point one available image compression. In this way, the right image size and quality can be determined for every purpose. Compared to the 2003 version, this command is carried out automatically from version 2007 onwards. away version 2010 there is also one new Option regarding the target output. Previously, you could choose between 96, 150 and 220 ppi. Now there is still the option of the current one Document resolutionthat for fewer as a 96 ppi stands to use.
If you have a picture marked, can over the tab Image tools > Size the button Pictures compress to be chosen.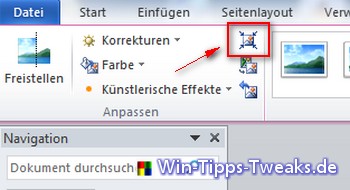 Now a window opens in which possible Settings regarding the Target output can be made.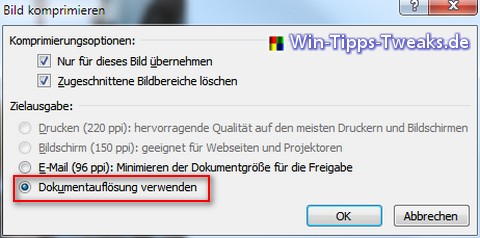 New is the last point from version 2010, Document resolution use. In addition, it should be said that the points for voting are activated in each case, the quality of which is less than or equal to that of the image.
More new setting options
About Home > Options > Erweitert in the individual Office applications, the City of the image compression can be preset.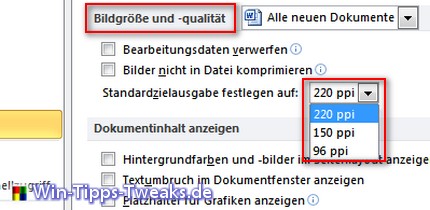 Under Image size and -quality can a Standard target output to 220, 150 or 96 ppi set .
The setting is of course also possible in Excel and PowerPoint.


___________________________________________________
This tip comes from www.win-tipps-tweaks.de
© Copyright Michael Hille

Warning:
Using Registry Editor or its tips incorrectly can cause serious system problems that may require you to reinstall your operating system. Tampering with the registry files and using the tips is at your own risk.