Office 2010: More functions without compatibility mode

One opens with Office 2010Applications older files, for example from the version 2007, these are automatically saved in compatibility mode started. In this mode, Word, Excel or PowerPoint are missing many new 2010 functions that are not compatible with the older files. Documents of the new Office version can be recognized by the extension docx, xLSX etc. The "x" documents remember the version with which they were created. With a little one Trick In the future, however, all new Office 2010 features can still be used on older Office files, and thus the Bypass compatibility mode.
The compatibility mode

As soon as an application starts in compatibility mode, this can be seen immediately in the respective Title bar. There is the after the title in square brackets Feature [Compatibility mode] to see.
The best Example for a limited range of functions is in PowerPoint 2010 to find. If you open a file from version 2007 here, fehlen numerous new interesting Foil transitions. But some functions are also grayed out in Word and Excel 2010.
(with compatibility mode)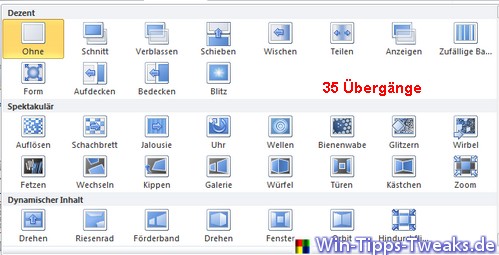 (without compatibility mode)
The solution
So really all new features on older ones Files are to be applied, these Konvertiert will. You can do this in the same way in all of the Office 2010 applications. Above File > Information > Convert.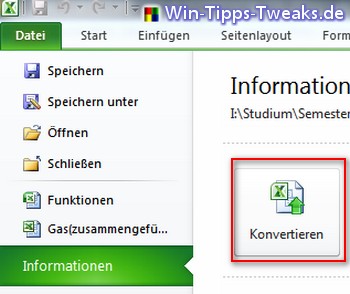 Important
Subsequently will be another Info message appears, indicating that in this case the original xls file has been converted to an xlsx file overwritten is.
For certain reasons, do you want the ältere File do not overwrite, but continue keepyou go over the path File > Save under and then choose one new File Type the end. So you have two versions of the file, with one without the material moisture meter shows you the compatibility mode is available.


___________________________________________________
This tip comes from www.win-tipps-tweaks.de
© Copyright Michael Hille

Warning:
Using Registry Editor or its tips incorrectly can cause serious system problems that may require you to reinstall your operating system. Tampering with the registry files and using the tips is at your own risk.