PowerPoint 2010: Screenshot tool function

With the new ScreenShot function of Microsoft PowerPoint 2010, images can be integrated quickly and easily into presentations. Like so many functions, the screenshot tool is not only available in PowerPoint 2010, but also in Word 2010 and Excel 2010. This article introduces the new functionality in PowerPoint 2010.
The tool is under the tab

to find. If you click on the symbol Screenshot the two essential functions of the tool can be seen.
Functional Overview
Include available windows in the presentation.


Screen clipping
To get an open window as a picture in PowerPoint, simply click on a window that is displayed in miniature. PowerPoint minimizes itself in the screen cutout and places a white fog on the screen, so you can immediately see what the screeshot will look like. With the mouse button pressed, you can drag your desired area. This area is then automatically inserted into PowerPoint when you release the mouse button.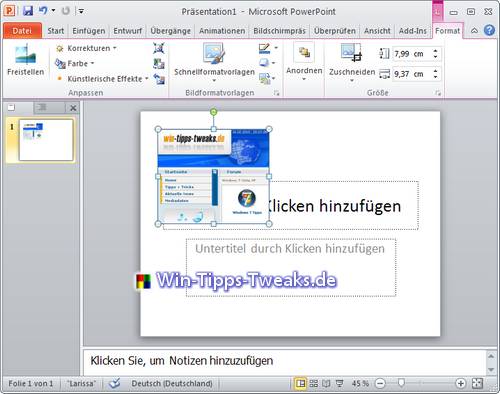 The Office 2010 screenshot tool will make a good ScreenShot program rather replace, but it offers the possibility fast and just take a screenshot in PowerPoint, Excel or Word. For users who document a lot and therefore need screenshots, this means higher productivity. With Windows 7, Microsoft has that Snipping Tool attached free of charge and thus the logical conclusion was to implement a similar function in the next product.


___________________________________________________
This tip comes from www.win-tipps-tweaks.de
© Copyright Michael Hille

Warning:
Using Registry Editor or its tips incorrectly can cause serious system problems that may require you to reinstall your operating system. Tampering with the registry files and using the tips is at your own risk.