Word 2010: Create backup file automatically

The very useful and easy to use AutoBackup add-on Smart Tools for Word attaches to each save Automatically one separate from the current working file Backup file on any partition or a external Speichermedium away. If the original document is accidentally overwritten, a backup copy is still available in the backup folder. When working on large documents, any Intermediate results can be called from the backup folder. For creating scientific Work is this Add-on a Got to.
After Installation Smart Tools Auto Backup and the following starten Word 2010 the new tab with the name has been added to the menu ribbon Smart Tools added.

Only two buttons are necessary to configure the add-on. About the Options are initially three settings to undertake. The first thing must be a Path for Backup folder to be determined. This can also affect one USB-Stick etc. relate. You can also use the filename um das Date(s) and the Time of day add to. Finally there is the area Status. The add-on can be used here at any time activated and disabled .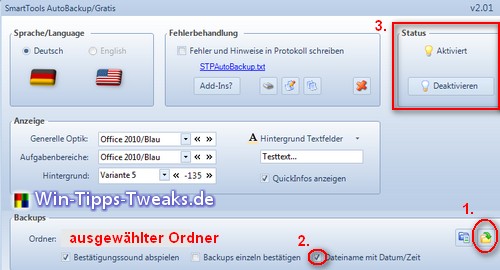 If you open the Backup folder here are the individual Backup copies the working file. If you save a work file twice with an interval of less than a minute, only one backup file is created.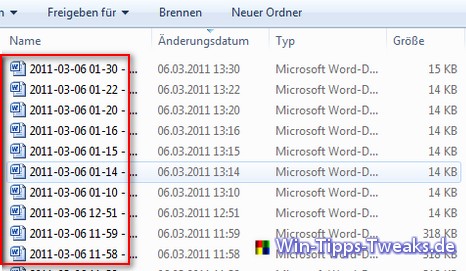 Using the date and time in the file name can be targeted Backup copies from the original document .
Download SmartTools AutoBackup for Word
___________________________________________________
This tip comes from www.win-tipps-tweaks.de
© Copyright Michael Hille

Warning:
Using Registry Editor or its tips incorrectly can cause serious system problems that may require you to reinstall your operating system. Tampering with the registry files and using the tips is at your own risk.