Fix it Center fix problems quickly
Microsoft Fix it Center
Fix and prevent problems


Simple and uncomplicated help from Microsoft's repair service.
Automated troubleshooting helps Fix it Center in troubleshooting computer problems, even if you are unsure of what exactly is causing the problem.
Fix It Center will scan the device to fix problems, and then give you two options: Find and Fix or Find and Report.

With its "Fix it Center" tool, Microsoft currently offers the ability to easily fix around 300 known problems.
The Fix it Center is designed so that computer problems can be resolved with one click. All you have to do is select the appropriate troubleshooting and confirm with the "Run" button.

According to Microsoft, "Fix it" prevents future problems by independently checking for known errors and automatically downloading the latest solutions.

In the event of unknown problems, the user can contact Microsoft support by email, chat or by phone.
They can view the Fix-it account and receive information on the hardware and software, the problem itself and any attempts to solve the problem that have already been used by the user.
This speeds up the handling of problems and means that the support team can only offer solutions that are tailored to the needs of the user.


System requirements:
Fix it Center can be installed on the following operating systems:

Windows XP SP3
Windows XP Pro (64-bit) SP2
Windows Vista
Windows 7
Windows Server 2003 SP2
Windows Server 2008
Windows Server 2008 R2

Installation

First of all, Fix it Center needs to be downloaded.



Unzip and install the FixitCenter_Run.exe

In order to use all the possibilities of Fix it an online account can be set up, which gives the support information to the hand in order to solve unknown problems faster.
Of course, this can also be an existing Windows Live ID.
The Fix it Center client can be installed on any number of computers. If the same logon account is then used on each computer during the setup of the client, the information for all PCs will be registered in the same account.
In this way, all computers can be managed centrally and still specific solutions for the individual PCs can be displayed.

The program
The Fix It Center interface opens, which lists a number of Windows functions for which various problem solutions are available.


For example, is there a problem with the aero effects such as the transparency choose "To run" in line "Aero".
Under Details you get a few more tips on what this troubleshooting is aimed at.
A dialog opens in which you can choose whether to automatically correct the identified problem or to have the user confirm the corrections to be applied.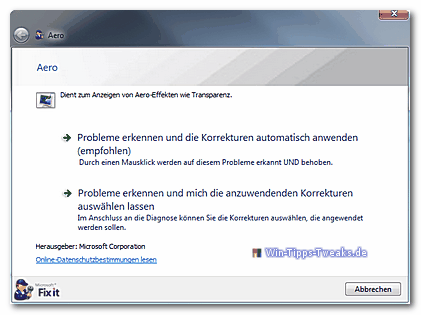 Fix It then checks the system and identifies possible problems which can now be resolved.
In addition, a report can be displayed, printed out or saved.

Summary
If you don't want to go down into the depths of Windows problems yourself, Fix It is a helper that offers quick tips and suggestions for solutions to all kinds of problems.
Although Windows 7 already comes with a number of diagnostic tools, Fix It is easy to use, even for less experienced users.
In particular, users of Windows XP and Windows Vista also benefit from the new Fix It Center. With the use of the Fix IT Center, their systems are upgraded to Windows 7 with regard to troubleshooting.



Related Links:
Microsoft Fix it Center online

___________________________________________________
This tip comes from www.win-tipps-tweaks.de
© Copyright Michael Hille

Warning:
Using Registry Editor or its tips incorrectly can cause serious system problems that may require you to reinstall your operating system. Tampering with the registry files and using the tips is at your own risk.