TuneUp Utilities 2007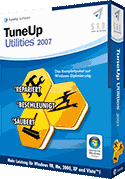 TuneUp Utilities 2007


With the popular TuneUp Utilities® can be found in the version 2007 With the usual quality and reliability, make Windows faster, more convenient and more secure than ever before. Users of Windows Vista can be happy, because they TuneUp Utilities® 2007 can now also be used with the latest operating system!

System configuration, protection, care and maintenance of the system can be easily carried out and operated via the intuitive user interface - all in one program, at a glance.

TuneUp Utilities consists of many useful modules that can all be called up via a common graphical start interface. This start interface is divided into five categories to make it easier to find the individual modules.



System requirements:
TuneUp Utilities® 2007 can be used with the following Windows versions:
Windows 98, Windows Me, Windows 2000, Windows XP, Windows XP x64, Windows Vista
Windows NT is not supported!

Recommended system configuration
Graphics mode 1024x768 with 16.7 million colors
50 MB free hard disk space
128 MB RAM
CD-ROM or DVD-ROM drive
Internet-Zugang



Program description:


If there are many changes, TuneUp Utilities® 2007 intervenes deeply in the Windows system.
Windows itself, however, changes considerably from version to version, so the software is able to automatically adapt to all supported Windows versions.
As a rule, the user does not notice these adjustments and can use the software without restrictions.


The start interface is divided into five categories.



Adapt & inform


Here you can intervene deeply into the behavior of Windows and design the system as required.
It is possible to change the appearance of the user interface and to manage programs that should be started automatically together with Windows. The category is rounded off by an extensive diagnostic module that displays a lot of information worth knowing about the installed hardware and software.



TuneUp SystemControl


Lets you customize how Windows looks and works

TuneUp Startup Manager
Manages the programs that start with Windows

TuneUp system information
Obtains extensive information about your system

TuneUp Styler 2
Customizes the Windows icons, the login screen and the boot logo.



Click for an enlarged view



















Clean up & repair


The modules in this category ensure the elimination of data garbage, free of unnecessary ballast and fix errors in the configuration.

TuneUp Disk Cleaner
Frees drives of data garbage and creates free space.

TuneUp Disk Doctor
Finds and corrects errors on data carriers.

TuneUp Disk Space Explorer
Provides information about the system's memory usage.

TuneUp Registry Cleaner
Removes invalid entries and references from the system.




Optimize & improve


This category is about accelerating the system.
Standard settings that have a negative impact on the performance of the system are determined and corrected at the push of a button.

TuneUp MemOptimizer (up to Windows XP)
Monitors and optimizes the free memory in the background.

TuneUp Registry Defrag
Fixes physical errors and defragments the registry.

TuneUp System Optimizer
Checks the system for possible speed brakes.


Manage & control
This is about gaining more control over Windows.

TuneUp Process Manager
Manages the programs currently running on the system.

TuneUp Registry Editor
Helps you edit and search the registry.

TuneUp Uninstall Manager
Uninstalls programs that are no longer required.



Click for an enlarged view
















Save & destroy data


Reliably destroy data with sophisticated destruction processes or restore accidentally deleted files and folders - even if they can no longer be found in the Windows recycle bin.

TuneUp shredder
Deletes files and directories with the highest level of security.

TuneUp Undelete
Recovers files already deleted from the recycle bin.




Additional functions


There are other important functions below the title bar.

TuneUp Rescue Center
Monitors all changes that have been made to the system with the other TuneUp Utilities modules and can undo them at any time if required.

TuneUp UpdateWizard
With this, the software can be kept up to date with just a few clicks and important updates and improvements can be installed.





At the end...


The TuneUp Utilities® 2007 have again appeared in their usual high quality.
If there is already a tuning tool then the TuneUP Utilities, these are still a "Must have tool".
Pros will say I can do that without such a program. Possibly, but certainly not as comfortable and all in a tidy interface.
Changes to the system can be undone at any time via the Rescue Center and, in contrast to many other tuning tools, which work without a network or false floor, offer a high level of security.
For those who do not want to take care of their system permanently, there is 1-click maintenance which, if desired, cleans and optimizes Windows automatically, but also manually with one click.
Even password protection is included, which prevents unauthorized persons from starting the program and changing settings.
All of this in a perfectly tidy user interface that offers sufficient information about the program functions and makes the use of the excellent help almost unnecessary.




Was this article helpful and you would like to purchase TuneUp Utilities® 2007?


Then we would be happy if you order the TuneUp Utilities® 2007 via the following link
and thus supported win-tipps-tweaks.de.

Order TuneUp Utilities® 2007 Update online

Order TuneUp Utilities® 2007 full version online

Prices when this article was created (without guarantee):
Full version: 34,99 Euros
Upgrade: 19,99 Euros
Manufacturer: tuneup.de


________________________________________________________________________

Related Links:
Wintt product presentation TuneUp Utilities® 2006

Wintt product presentation TuneUp Utilities® 2004

WinTT application report TuneUp Utilities® 2004

Wintt product presentation TuneUp Utilities® 2003





______________________________________________________
This tip / article is from www.win-tipps-tweaks.de
© Copyright Michael Hille / Chainon Kittisonthirak

Warning:
Using Registry Editor or its tips incorrectly can cause serious system problems that may require you to reinstall the
Require operating system.
Tampering with the registry files and using the tips is at your own risk.