Page 1 from 3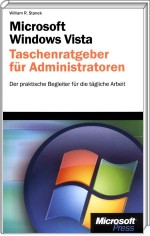 This book was written with the aim of being more compact than a manual, but still more complete than a paperback book. The end result is:
Microsoft Windows Vista Pocket Advisor for Administrators
The guide focuses more on content and does not flood the reader with images. The readers' group are Vista administrators. The book is also suitable for advanced Vista users who want to acquire more detailed knowledge about Microsoft Windows Vista.
The book is written very factually and would like to bring the reader closer to the reader briefly, clearly, precisely. The author clearly runs through the book's own specifications throughout the book, which is why you can get into ruminating at one point or another.
Table of contents:
Introduction to Windows Vista Administration




Manage Windows Vista Systems


Configure systems, hardware and drivers


Customize the desktop and user interface


Install and maintain applications


Manage user accounts and security


Manage laptops and mobile users


Configure user and computer policies


Manage hard drives and file systems


Manage file security and resource sharing


Explorer options, offline files, and disk quotas


Configure and troubleshoot TCP / IP networks


Manage mobile networks and remote access


Advanced internet options and security



Windows Vista troubleshooting and support



Product information
Paperback: 607 pages
Publisher: Microsoft Press Germany
Language: German
ISBN 10:

3-86645-908-4

ISBN 13:

978-3-86645-908-3
Order book
:
Microsoft Windows Vista Pocket Advisor for Administrators

At the end...
The book is certainly an enrichment for Vista users and the pocket guide is recommended for daily work. William R. Stanek wrote all the important topics in his book. The correct administrator could claim that there are some items that are missing on, for example, networking.