Windows 10 - Show emojis with a keyboard shortcut
Call up and insert emojis with a keyboard shortcut in Windows 10

Emojis have become an integral part of today's online correspondence.
Whether on Whatsapp, Facebook or other services, the small smileys are always there and express the mood.
In Windows 10, too, emojis can be called up using a key combination and inserted at the cursor position.
In order to be able to call up the EmojPanel, at least Windows 10 version 1803, which was made available in April 2018, is required.
So if you can't open it, you should bring your Windows 10 installation up to date.
How do I access the emoji panel in Windows 10?
Use the key combination to call up the emoji panel Windows key +. (Windows key + period key).
The emoji panel will now open next to the cursor.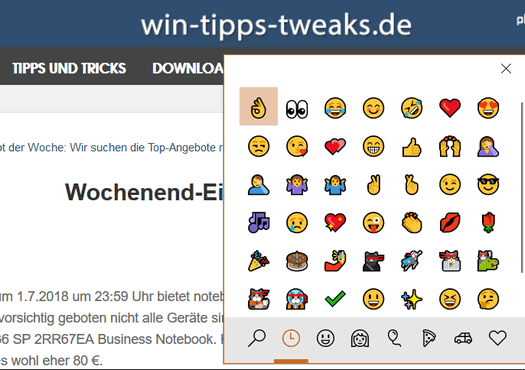 In suitable programs, e.g. Word, it is very easy to insert the desired emoji at the cursor position with one click.
This will not work in a pure text editor, as you usually get a question mark instead of the emojis.
>
The emojipanel offers a decent selection and even categories.

In addition to the Search function you can find the categories
-Last used
-Faces and animals
-People
- Celebrations and objects
-Food and plants
-Transportation and places
symbols

So there should be something for every taste.

Windows 10 tips recommendation




Office tips recommendation




___________________________________________________
This tip comes from www.win-tipps-tweaks.de
© Copyright Michael Hille

Warning:
Using Registry Editor or its tips incorrectly can cause serious system problems that may require you to reinstall your operating system. Tampering with the registry files and using the tips is at your own risk.

tags: Windows 10, key combination