Turn off Windows 10 background apps
Save RAM by deactivating it
of unnecessary background apps

Even in times of computers with lavish RAM equipment, it makes sense to keep valuable RAM free from apps that are not needed.
Windows 10 offers a simple solution to disable apps running in the background.
Since these apps, even if they are never used, take up RAM and receive information or send notifications in the background, it makes sense to switch off everything that is superfluous.
Deactivate background apps:
Open that Infocenter by clicking on that Notification icon in the system tray at the bottom right.
Choose there All settings and click on Privacy.
The data protection settings open. Here choose at the bottom left Background apps.
In the right area, the active background apps are now listed and can be activated or deactivated with a switch.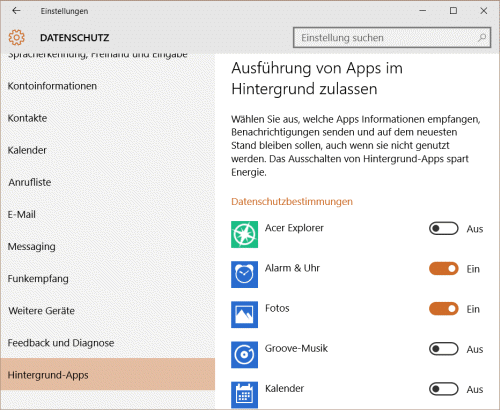 mh, January 12.03.2016rd, XNUMX
Windows 10 tips recommendation

___________________________________________________
This tip comes from www.win-tipps-tweaks.de
© Copyright Michael Hille

Warning:
Using Registry Editor or its tips incorrectly can cause serious system problems that may require you to reinstall your operating system. Tampering with the registry files and using the tips is at your own risk.