Initiate the mouse pointer independently on z. B. to jump the OK button



A useful feature in the Windows versions is to let the mouse pointer always jump independently to the OK button or the respective standard button in dialog boxes.
By default, this useful feature is disabled.
How can I let the mouse pointer jump to the standard button in dialog boxes on its own?

This setting can be found in the Windows system settings.
Start >> Settings >> Windows Settings >> Devices >> Mouse
This would be the regular path.
The Windows settings are easier to call up with the key combination Windows button + i
Select there under the devices Mouse off and then under Related settings the Other mouse options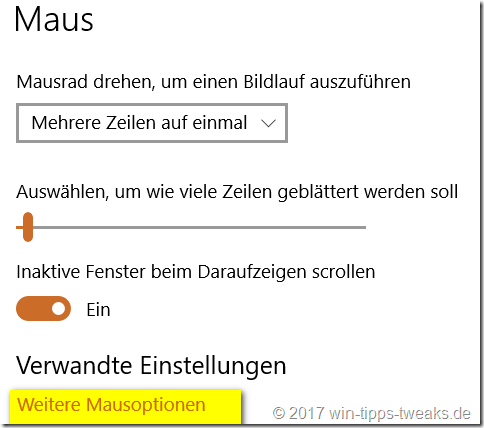 A settings window opens Properties of mouse.
There is under the tab Pointer options the setting Jump to the standard button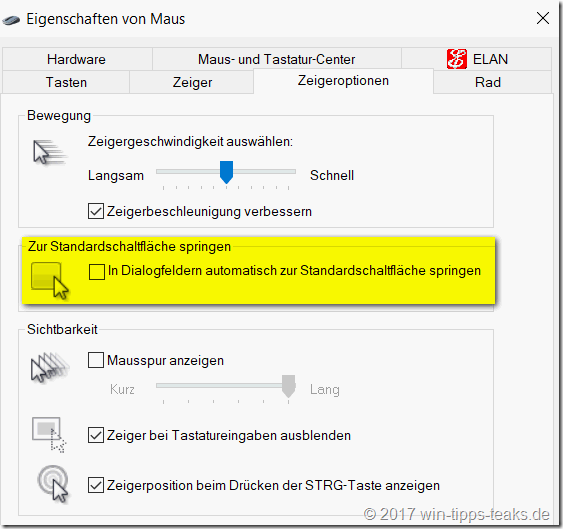 Now put the tick next to it Automatically jump to the default button in dialog boxes.
Confirm with Apply or OK.
This feature is effective immediately.
For example, if the print dialog is called, the mouse pointer is placed on the standard button of the print dialog as if by magic.
Read / write comments
(mh)
Windows 10 tips recommendation
___________________________________________________
This tip comes from www.win-tipps-tweaks.de
© Copyright Michael Hille

Warning:
Using Registry Editor or its tips incorrectly can cause serious system problems that may require you to reinstall your operating system. Tampering with the registry files and using the tips is at your own risk.