Windows 10 - Accelerate startup
Clean up Windows startup

Now is a good time to do some spring cleaning. You can start right away with the autostart of Windows 10 - this is the name given to the area where Windows starts the programs for the user at the beginning. Programs that have been tested over the course of time or are perhaps no longer needed are located or entered here. It is not uncommon for programs to register themselves in the autostart, although it is not necessary. In the Task Manager in the Autostart tab under Windows 10 there is a new Start Effect column. Let's take a look at the following tip.
The classic way is to start the Tastkmanager via the taskbar with the right mouse button> Taskmanager. I like to use a keyboard shortcut ;-)
So a little tip by the way to open the task manager quickly, you just use the Ctrl + Shilft and hold down both and then the ESC key.
If the task manager is open you can see a number of tabs. Processes, performance, app history, etc. here we select the Retier author start.
Just take a look at this list to see which programs are no longer used or are not required at all each time they are started. Once you have found such a program, simply right-click and click deactivate in the context menu.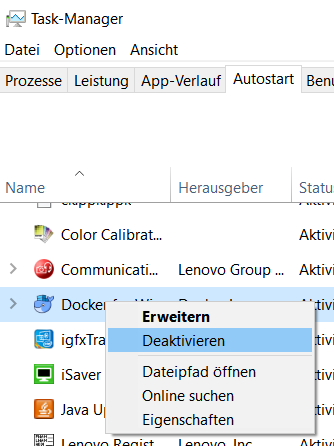 Now we come to the start effect mentioned above. Here Windows 10 tells us as a rating of high, medium or low how resources, i.e. CPU and data carriers, are used at start-up.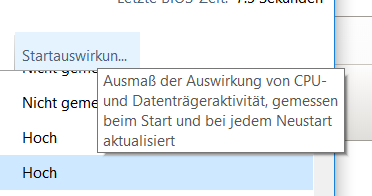 Those who like to look at the performance will be interested in the last BIOS time, this time is displayed on the top right. This time tells you how long it took Windows from switching on to the usability of the computer - not until Windows was loaded, but before - quasi loading the BIOS.
ck, 01.05.2018/XNUMX/XNUMX
Read / write comments
Windows 10 tips recommendation

___________________________________________________
This tip comes from www.win-tipps-tweaks.de
© Copyright Michael Hille

Warning:
Using Registry Editor or its tips incorrectly can cause serious system problems that may require you to reinstall your operating system. Tampering with the registry files and using the tips is at your own risk.