Windows 10: Change the size of the preview images in the taskbar

If the mouse pointer hovers over an active program in the taskbar, a preview image is displayed.
So far so good. This tip explains how the size of this preview image can be adapted to your own taste.
Since this is not possible with Windows own settings, we have to make these changes in the registry.
This is not rocket science, but changes to the registration database always involve a residual risk.
A working backup or an up-to-date system restore point is definitely a good idea.

Here we go

Start the registry editor "regedit"via the key combination [Windows key] + [R]
In the search field that opens, enter reedit and confirm.
Navigate to the path in the registry editor

HKEY_CURRENT_USER \ SOFTWARE \ Microsoft \ Windows \ CurrentVersion \ Explorer \ Taskband

The fastest way to do this is to copy the path here, enter it in the address line of the registry editor and press Enter.



In the right area should be the values MaxThumbSizePx and MinThumbSizePx to be available.
These need to be changed.
If these are not there yet, we will create them now.
In this case, click the right mouse button on an empty space in the right pane and select New> DWORD value (32 bit)
gebe MaxThumbSizePx and confirm.
You do the same with MinThumbSizePx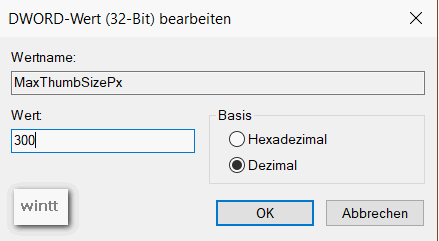 >

Now open MinThumbSizePx with a double click, change the setting to Decimal in the base area and try the value 300 whereby this is to be understood in pixels.
Do the same with the value MaxThumbSizePx
Close the editor, restart Windows 10 and check whether the size of the preview images has changed and whether it corresponds to your ideas.

These screenshots show that the preview image now extends over almost 8 taskbar icons.
Before it was 6 icons. If that is too much or too little for you, you now know how to adapt it to your tastes.
Before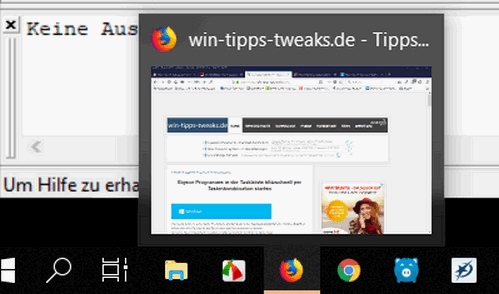 later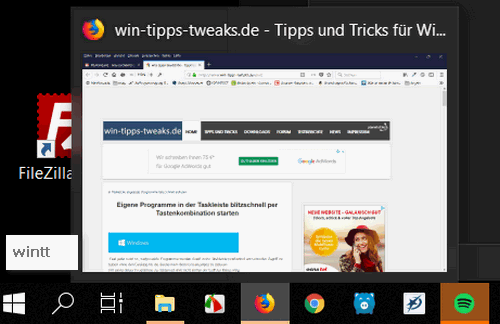 Read / write comments

(mh)



Windows 10 tips recommendation



___________________________________________________
This tip comes from www.win-tipps-tweaks.de
© Copyright Michael Hille

Warning:
Using Registry Editor or its tips incorrectly can cause serious system problems that may require you to reinstall your operating system. Tampering with the registry files and using the tips is at your own risk.

tags: Windows 10, taskbar, preview