Configure Windows 10 Command Prompt Start
Start the command prompt in a specific folder

The following tip is more for professionals / admins who often work or have to configure the Windows system. The point here is that Windows opens the user folder / user folder by default when opening the command prompt (cmd.exe) - ends up. Then you have to laboriously work with cd .. cd .. or cd \.
The following tip creates a link which opens the command prompt by double-clicking and you are immediately in the folder where the hosts file is located.
To do this, simply right-click on NEW> Shortcut on the desktop
Copy the following line into the storage location.
C: \ Windows \ System32 \ cmd.exe / k pushd c: \ Windows \ System32 \ drivers \ etc \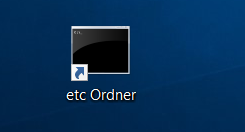 etc folder
In which folder the command prompt ends up can be easily changed by adjusting the path at the end.
ck, 21.05.2018/XNUMX/XNUMX
Read / write comments
Windows 10 tips recommendation

___________________________________________________
This tip comes from www.win-tipps-tweaks.de
© Copyright Michael Hille

Warning:
Using Registry Editor or its tips incorrectly can cause serious system problems that may require you to reinstall your operating system. Tampering with the registry files and using the tips is at your own risk.