Customize Windows 10 start menu and tile menu
Customize the tile menu in Windows 10

In Windows 10 there is an additional menu in the start menu, the tile menu, which can be adjusted as desired. In the start menu you can now adjust as follows.
First you can open the start menu with the Windows key and search for any program. If the app of your choice is displayed, hold down the mouse button and drag it to the tile field on the right-hand side of the start menu.
Then you can still determine how big the tile should be by clicking on it with the right mouse button.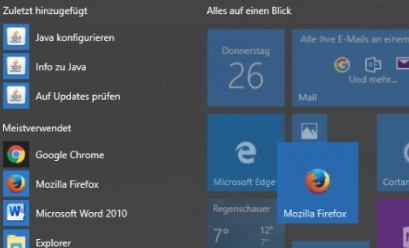 In the context menu there are then corresponding options, which size the tile can assume. However, not all sizes are available for all tiles. It also depends on the type of tile.
Tiles can also be deleted without any problems, then simply click on them with the right mouse button and select Remove from "Start". So you can completely remove all tiles from the start menu if necessary.
ck, 26.04.2018/XNUMX/XNUMX
Read / write comments
Windows 10 tips recommendation

___________________________________________________
This tip comes from www.win-tipps-tweaks.de
© Copyright Michael Hille

Warning:
Using Registry Editor or its tips incorrectly can cause serious system problems that may require you to reinstall your operating system. Tampering with the registry files and using the tips is at your own risk.