Speed ​​up Windows 10 SSD hard drive
Speed ​​up Windows 10 SSD hard drive
Deactivate prefetching


Windows 10 moves files that are required for booting to the front sectors of a hard drive, as HDD hard drives have faster access speeds here. However, if PC or notebooks have an SSD hard drive, the moving of files, known as prefetching, should be switched off. In the following tip I'll show you how to do it:
Deactivate prefetching for SSD hard disks:
The window opens with the key combination Windows key + r To run enter "regedit" here and confirm with OK.
Navigate to the following path in the registry editor: "HKEY_LOCAL_MACHINE \ SYSTEM \ CurrentControlSet \ Control \ Session Manager \ Memory Management \ Prefetch Parameters".
Then on the entry Enable prefetcher change to the value "0".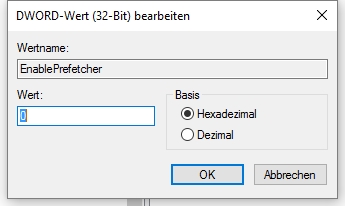 ck, 6.03.2016/XNUMX/XNUMX



Windows 10 tips recommendation

___________________________________________________
This tip comes from www.win-tipps-tweaks.de
© Copyright Michael Hille

Warning:
Using Registry Editor or its tips incorrectly can cause serious system problems that may require you to reinstall your operating system. Tampering with the registry files and using the tips is at your own risk.