Windows 10 status message on restart, shutdown and login
For error analysis during restart, shutdown and login
display the status messages

If you want to see what Windows 10 is doing at startup, you should just activate this option for fun. So you can quickly find out what is happening. the operating system holds up for so long.
The tip is implemented quickly. To view the status messages, go to the editor for local group guidelines (Windows key + r and gpedit.msc). In the editor you go in the page tree Local computer guidelines > Administrative Templates > System> in the right window Show extremely detailed status messages choose.
There are three options "Not configured", "Activated" and "Deactivated". Here we choose enabled and confirm everything with OK or close the window and restart Windows. And already we are shown in writing what Windows 10 is doing.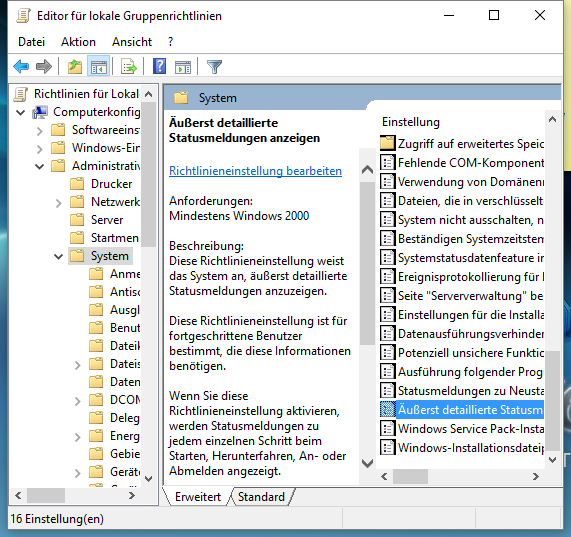 ck, 24.03.2016/XNUMX/XNUMX


Windows 10 tips recommendation

___________________________________________________
This tip comes from www.win-tipps-tweaks.de
© Copyright Michael Hille

Warning:
Using Registry Editor or its tips incorrectly can cause serious system problems that may require you to reinstall your operating system. Tampering with the registry files and using the tips is at your own risk.