Windows 10 - Windows Update prevent automatic restart
Determine restarts after Windows updates yourself

The installation of new Windows updates very often requires a system restart. Windows 10 automatically restarts the computer by default if the computer is inactive for a longer period of time.
Even if no unsaved files are lost, as they prevent the automatic restart, it can be quite annoying if the computer has restarted while you get a coffee.
It would be better to determine when the restart should take place ...
How do I configure the restart of Windows updates?
Go to the Settings about the start menu or press the key combination Windows button + i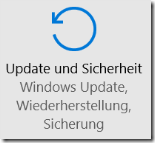 Choose there Update and security
In the window Update and Security> Windows Update click on erweiterte options.
Now can under Installation type for updates the option Notify about planning a restart to be chosen.
In the future, a message will appear about the necessary restart and you can set when this should take place.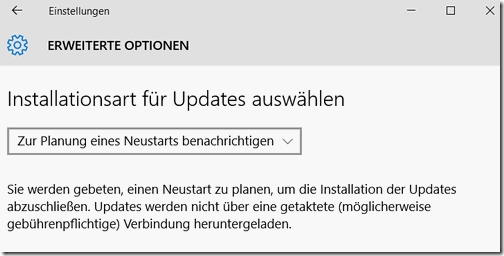 Windows 10 tips recommendation
___________________________________________________
This tip comes from www.win-tipps-tweaks.de
© Copyright Michael Hille

Warning:
Using Registry Editor or its tips incorrectly can cause serious system problems that may require you to reinstall your operating system. Tampering with the registry files and using the tips is at your own risk.