Fantastic wallpapers with the
Bing wallpaper app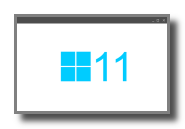 If you are looking for high quality desktop wallpapers, you should check out the free Bing wallpaper app.
Once installed, a new background image is loaded every day. In addition, there is further information on the respective background image.



Bing Wallpaper is a collection of beautiful images from around the world that have been integrated into the Bing homepage. If you like, you can activate a daily change of the background image and thus have a new image displayed on the desktop every day. In addition, there is information on the respective image and by clicking on the short info, bing.com opens with further results for the background image.
The Bing Wallpaper App works from and including Windows 7.

Install the Bing Wallpaper App
Go to the website Microsoft Bing Wallpaper (Click on this link opens a new window)
Download the app there.
Double click the downloaded BingWallpaper.exe
In the window that opens, decide whether "Bing should be set as the start page" and / or as the "standard search engine" or not.
Click on "Install now"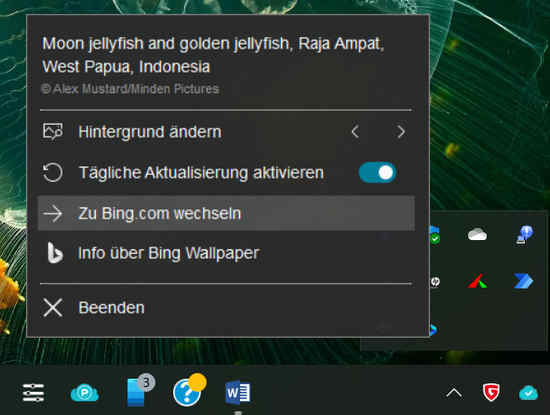 A new background image should now be loaded.
The app settings can be found in the system tray next to the clock.
Right-clicking on the Bing icon opens the Bing wallpaper app settings.
The daily change can be activated here or information on the currently loaded background image can be clicked in the upper area to obtain further information.
At the end...

An easy to install app, with really awesome wallpapers.
There is hardly a simpler way to embellish the desktop. It is definitely worth a try.
2021-11-14 (mh)
Read / write comments
___________________________________________________
This tip comes from www.win-tipps-tweaks.de
© Copyright Michael Hille

Warning:
Using Registry Editor or its tips incorrectly can cause serious system problems that may require you to reinstall your operating system. Tampering with the registry files and using the tips is at your own risk.
Office tips recommendation
Windows 10 tips recommendation