Change Windows 7 language for Home, Premium and Pro
Changing the language in Windows 7 and Vista is very easy with the more expensive versions.

Download the language pack, if available, and convert it yourself in Windows. The more expensive versions include Ulitmate and Enterprise. Windows 7 and Vista language packages at a glance read on before following the link. You are confronted with the question of whether you want to install a MUI (Multilingual User Interface) or LIP (Language Interface Pack) version.
MUI (Multilingual User Interface)
Almost all user interfaces at MUI are translated.
The MUI enables multiple language versions of Windows to be used on a single computer. These language packs can be downloaded from Windows Update.
LIP (Language Interface Pack)
With LIP, only the most frequently used areas are translated. The LIPs versions can be downloaded free of charge from the Microsoft homepage.
Change Windows 7 language in Ultimate
Start Windows Update
On "optional updates are available"Click link
"Language pack for English Windows 7" choose
Click OK and start the Windows Update
Under Enterprise, the language selection could have been hidden by the administrator.

So it is more interesting to install a new language for Windows 7 Home, Premium and Pro versions. To achieve this, there is the option of changing it via the command line or conveniently using the free Vistalizator program. I show the variant via Vistalizator.

Change Windows 7 language with Vistalizator

Step 1 Download Vistalizator
Unzip the zip file and run it. Vistalizator does not need to be installed.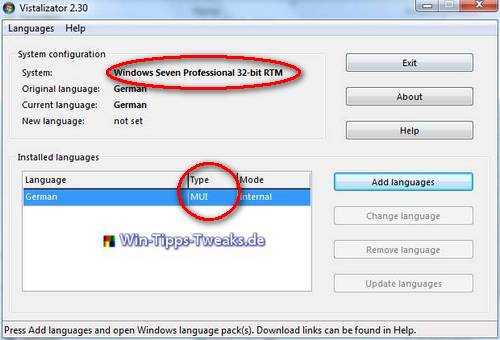 Here you can find information about the system and the language type.
Step 2 download the language pack
On the side http://www.froggie.sk/ many language files are available.
For the example, I'll download an English language file and go to the menu on the left beforehand MUI for Windows 7 32RTM.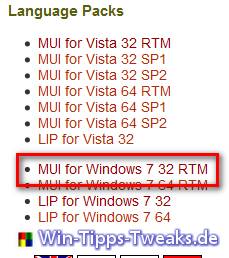 Step 3 update language pack
To update the language go to Vistalizator > Choose a language > click on Update languages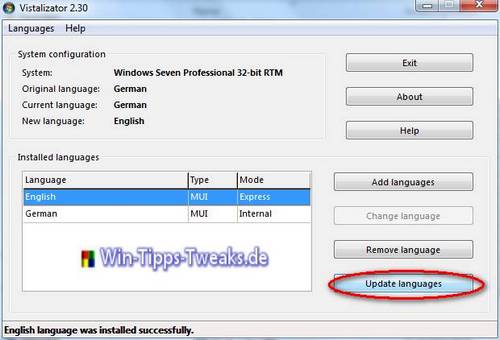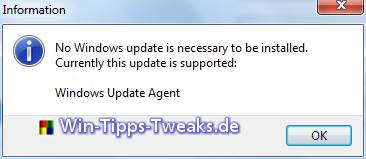 4th step Change the language in the Vistalizator
On in the Vistalizator Add Languages click and select the downloaded language file. You then receive the following message, which you confirm with OK.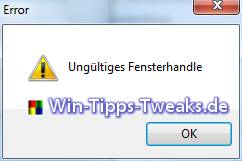 Also take note of the following message that you have to update the language manually and the system does not do it automatically.
Choose a language and on Change Language.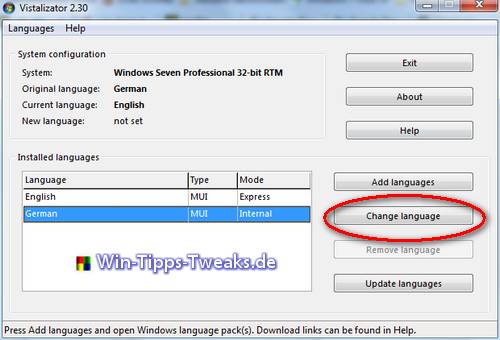 Yes to confirm.

The message says as soon as Vistalizator is closed, a restart will be carried out.

Here again the message that Windows will be restarted.

The new display language can already be seen when Windows is loading.
Have fun with the new Windows display language.
___________________________________________________
This tip comes from www.win-tipps-tweaks.de
© Copyright Michael Hille

Warning:
Using Registry Editor or its tips incorrectly can cause serious system problems that may require you to reinstall your operating system. Tampering with the registry files and using the tips is at your own risk.