Uninstall Internet Explorer 8
Deactivate the function of Internet Explorer 8
If you want to deactivate Internet Explorer 8, you can use this tip to do it quickly and easily with a few clicks. The subject of browsers under Windows is also a thorn in the side of the EU. In the meantime, Windows should appear completely without a browser, which would have been a drastic deterioration for the users. Despite everything, an agreement was reached in the end, but the function to deactivate Internet Explorer 8 has remained under Windows 7.




Quickly access the Windows features:

Start> fea und mit Enter confirm and the Windows features are already open.

Uncheck Internet Explorer 8 and confirm with OK.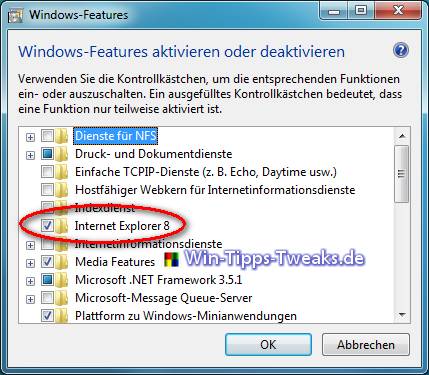 Deactivate Internet Explorer 8


Internet Explorer 8 is thus deactivated.

A complete deinstallation is currently not possible because Internet Explorer is integrated in the system. When deactivating, only the EXE and the icon are deleted, so Microsoft guarantees that other applications that use Internet Explorer's DLLs will continue to run.



___________________________________________________
This tip is from www.win-tipps-tweaks.de
© Copyright Michael Hille / Chainon Kittisonthirak

Warning:
Using Registry Editor or its tips incorrectly can cause serious system problems that may require you to reinstall the
Require operating system.
Tampering with the registry files and using the tips is at your own risk.