Delete Windows 7 home network
Disable Windows 7 homegroup



Windows 7 wants to make setting up a home network of two or more PCs much easier with the new "homegroup" function. With just two clicks of the mouse, releases are assigned and a password is generated with which other PCs can connect to this network. However, this great simplification also has weaknesses.


For example, in addition to others, the following Prerequisite be fulfilled:


Only PCs with Windows 7 can join the home network, older versions are not supported.

For example, in order to create a network with Windows 7 and XP, the homegroup function must first be deactivated.

To do this, enter the command "services" .



Start Windows 7 services



Look for the name in the following list Homegroup provider.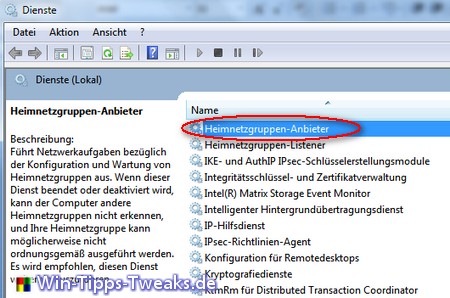 Services at a glance


The Properties its opened. In the tab General lets the service deactivate.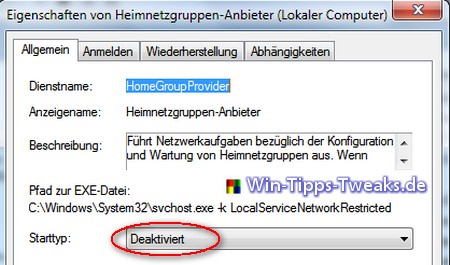 Deactivate homegroup provider


After the service has ended, a network can be created between Windows 7 and XP computers as usual without it necessarily belonging to a homegroup.

What else to look out for:


Deactivate the firewall of the XP computer or add exceptions.


User accounts with passwords should be assigned on both computers.


With the key combination Windows key + R can be done with the command
"\\"show the other computer.


The IP address of a computer can be found by entering the command prompt ipconfig enters.

More articles on the topic of home networks



___________________________________________________
This tip is from www.win-tipps-tweaks.de
© Copyright Michael Hille / Chainon Kittisonthirak

Warning:
Using Registry Editor or its tips incorrectly can cause serious system problems that may require you to reinstall the
Require operating system.
Tampering with the registry files and using the tips is at your own risk.