Windows 7 defragmentation
Configure Windows 7 defragmentation schedule


The Windows 7 defragmentation has been significantly expanded compared to the XP and Vista versions. In addition to a new user interface, several drives can now be defragmented in parallel. In addition, by taking NTFS metadata files into account, there should be a further optimization in terms of thoroughness. The detection of solid-state drives (e.g. flash storage devices such as USB sticks) offers an automatic deactivation of the defragmentation of such storage devices. The reason for this is, on the one hand, a theoretically limited write repeatability of this memory and, on the other hand, it makes no sense because no rotating parts are installed.



Another point that speaks for the new tool is its speed. Even with very full hard drives, the process is completed in less than ten minutes. The defragmentation function is automatically activated when Windows 7 is installed, but it is advisable to configure the schedule to ensure that the PC is switched on at the time of the planned execution. During the defragmentation, you should stop working on the computer, as data can be lost in the event of a system crash. The new interface and the configuration of a schedule are described below:

Home > defragmentation



defragmentation


At the top right of the window, first click on the button "Configure the schedule".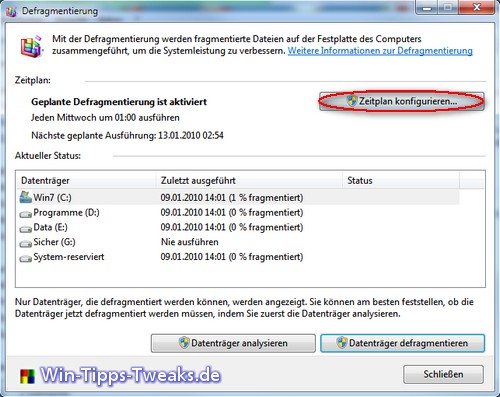 Configure the schedule


First the Häufigkeit and the Time of day can be adapted to your own needs or that of the hard disk. There is the possibility of creating an optimal schedule Weekly or Monthly the disk too analyze and thus find out which interval is most suitable. For this, the button "" is in the first windowAnalyze disk " been awarded. After that, the data carriers have to be clicked on the button "Select data carrier"to be determined.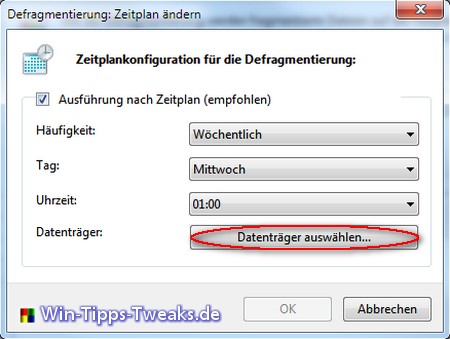 Defragmentation: Change the schedule


The configuration is complete with a check mark on the relevant data carrier and the selection of whether new data carriers should be defragmented automatically.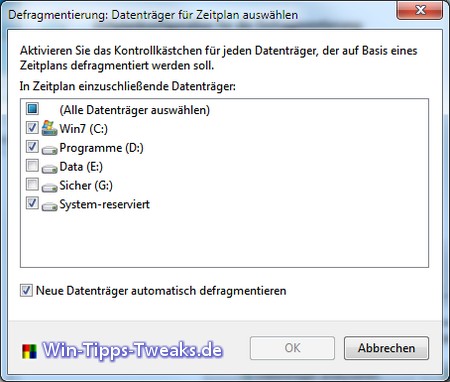 Select disk for schedule
_______________________________________________________
This tip is from www.win-tipps-tweaks.de
© Copyright Michael Hille / Chainon Kittisonthirak

Warning:
Using Registry Editor or its tips incorrectly can cause serious system problems that may require you to reinstall the
Require operating system.
Tampering with the registry files and using the tips is at your own risk.