Windows 7 Free Themes

As with a lot of things, the thing is that you just can't see it anymore. To this end, Microsoft has made some themes available for Windows 7 users to download for Windows 7. Of course, it can also be different that you just want to beautify your Windows. Microsoft puts the free themes in category like Animals, Art and entertainment, Automotive, branded themes, Holidays, Nature and Places and landscapes.
Mircosoft extends the Windows 7 themes from time to time - these can be found here Windows 7 New themes
Below are two interesting categories just click on the picture to go directly to the categories.
Automotive In this category there are themes for Ducati, Ferrari and Porsche.
Places and Landscapes there are beautiful landscapes from some countries such as Germany.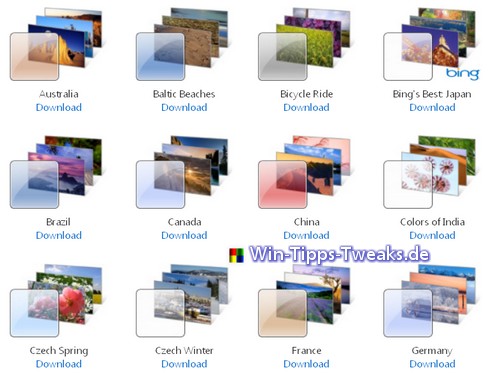 ___________________________________________________
This tip comes from www.win-tipps-tweaks.de
© Copyright Michael Hille

Warning:
Using Registry Editor or its tips incorrectly can cause serious system problems that may require you to reinstall your operating system. Tampering with the registry files and using the tips is at your own risk.