Windows 7: Remove shortcut arrows from the desktop
connections are under Windows on the desktop and everywhere else

with a shortcut arrow marked by the respective symbols. Some users would like these link arrows from loswer. As for everything else, there are several approaches to achieve this. One possibility would be via an additional Windows tool, such as TuneUp Utilities. Here, however, we want to take another route via a Registration change to be gone.
In front each Intervention in the Windows registry you should have this over File > Export... to back up. If something went wrong, this file can be imported again.
Important What you need to know is that after changing the registry with regard to the shortcut arrows, you can no longer attach shortcuts to the taskbar. Either adjust everything beforehand as much as possible and live with it, or at least use the additional tool, which is subject to a fee in some cases.
In front them Intervention are connections in the lower left margin with the Link arrows characterized.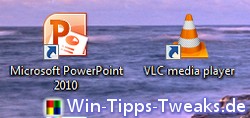 Now for that Change. With the key combination Windows button + R one calls first the To run-feature on. Here you give the order Regedit and confirm with OK. The following message from the User Account Control you confirm with Ja.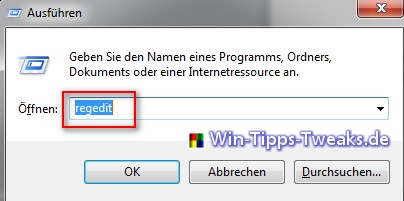 Now you are in Registration-Editor landed. here navigated one to the key
HKEY_CLASSES_ROOT \ lnkfile \ IsShortcut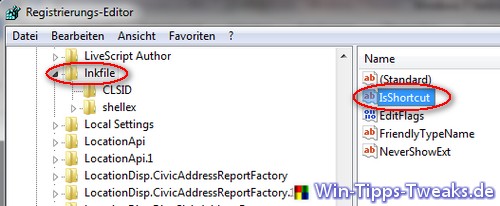 With a Right click on IsShortcut can you get this key rename. You just write Arioch before.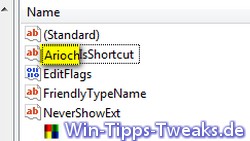 Everything is already done. Of the registry Editor can closed and I baked the System new gestartet .
following Result can now be seen on the desktop. the shortcut arrows are on the symbols disappeared.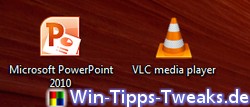 ___________________________________________________
This tip comes from www.win-tipps-tweaks.de
© Copyright Michael Hille

Warning:
Using Registry Editor or its tips incorrectly can cause serious system problems that may require you to reinstall your operating system. Tampering with the registry files and using the tips is at your own risk.