Burn ISO directly with Windows 7
Burn ISO directly with Windows 7





Nowadays, in the age of the fast Internet, an ISO is downloaded quickly; to burn the ISO file you need an extra program under Windows XP and Windows Vista, but not with Windows 7.




The tip is very simple. Browse to the ISO file with Windows Explorer and double-click the file.
If you have several burners, you can select the appropriate burner using the dropdown button and also let Windows 7 check the CD or DVD.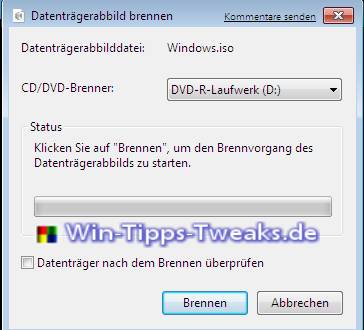 ___________________________________________________
This tip is from www.win-tipps-tweaks.de
© Copyright Michael Hille / Chainon Kittisonthirak

Warning:
Using Registry Editor or its tips incorrectly can cause serious problems that may require you to reinstall the
Require operating system.
Tampering with the registry files and using the tips is at your own risk.