Supported technologies in Windows 7
Supported technologies in Windows 7


This article is more about technologies that will be used in the future and therefore it is interesting to know which technologies Windows 7 already supports. Here is an overview of the technologies in Windows 7.
Blu-ray Disc (DB)

The Blu-ray format from Sony has prevailed over HD DVD on the market. Blu-ray blanks with storage capacities of 25 - 50 GB discs are currently available on the market. In 2010 up to 400 GB of discs should be received. Thus Microsoft is forced by the market to support the Blu-ray format as well. Microsoft previously relied on the HD DVD format. Windows 7 will fully support Blu-ray, which means that not only playback, but also writing of Blu-ray blanks can be handled by the new Microsoft operating system. A Blu-ray Disc can be played back from Windows Media Player or from Windows Media Center.



Ultra wideband (UWB) engl. Ultra wide band

UWB will give us a very interesting opportunity. Put the monitor down, connect the adapter to the computer and press two buttons, and the monitor is with the computer without cable tied together. UWB is a technology to transfer large amounts of data over a short distance. UWB uses high frequency ranges for this.

Technical data:

frequency range
3,1 - 10,6 GHz

transmission power
0,5 mW / -41,3 dBm / MHz

Reach
10 m to 50 m

Data rate
480 - 1320 Mbit / s



Wireless USB (WUSB)

WUSB and UWB are in competition with each other. Both technologies aim to banish annoying cables from short distances in the history books. WUSB is based on the well-known USB technology. As with all wireless technologies, the data rates depend on the distance from the receiver and transmitter. WUSB currently enables up to 480 Mbit / s. A disadvantage of WUSB is the power supply - you still need a cable for the power supply.



DirectX 11

The development of DirectX 11 is certainly interesting. With DirectX 11 it is possible to outsource calculations from the operating system to the graphics card. It is implemented in a proprietary manner by the graphics card manufacturer. Microsoft is now standardizing the possibility and optimizing the multiprocessor support. This will especially increase the performance of computer games. DirectX 11 support is only intended for Windows Vista and Windows 7.

Open the DirectX diagnostic program: Windows key> dxDiag Enter and confirm with the return key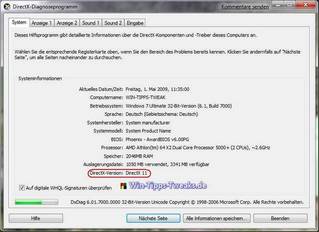 Biometric devices

Windows 7 is the first Windows operating system that supports biometric devices without external drivers. This means devices such as fingerprint scanners where access to the PC is authorized. Microsoft has provided a separate module for this under Control Panel.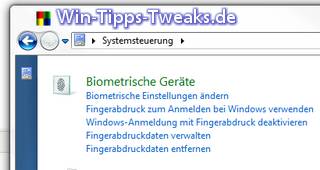 Location and other sensors

There are certainly not many devices on the market for this hardware area either. But supporting devices could be temperature, brightness, noise, or humidity sensors. Windows 7 also provides intrinsic support for this area. Here you can also find a separate module for.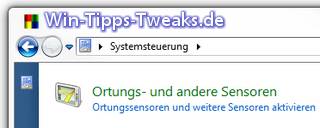 You can write questions or suggestions about Windows 7 here.
_______________________________________________________
This tip is from
www.win-tipps-tweaks.de
© Copyright Michael Hille / Chainon Kittisonthirak
Warning:
Using Registry Editor or its tips incorrectly can cause serious system problems that may require you to reinstall the
Require operating system.
Tampering with the registry files and using the tips is at your own risk.