Edit the Send To menu in Windows-8
The useful context menu entry "Send to", Which appears when you click on a file in Explorer, for example, can easily be expanded to include your own entries or superfluous entries can be made easier.
The context menu can be designed according to your own needs and files can be sent directly to the desired program.
How do I edit the "Send To" context menu in Windows-8?
Start Windows Explorer, the fastest way to do this is by using the key combination Windows key + E
In order to navigate to send to folder, enter "shell: sendto" followed by Enter a, so we jump straight to that Send to folder. In Send to Folder there are more or less useful shortcuts by default.
Here we can now add new ones or remove unnecessary ones.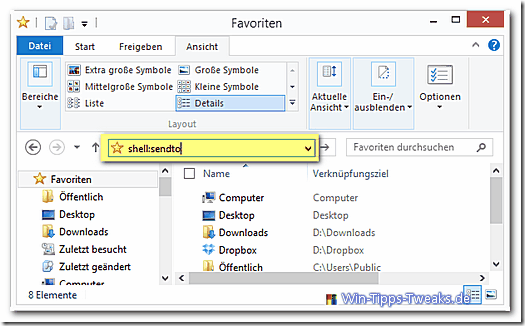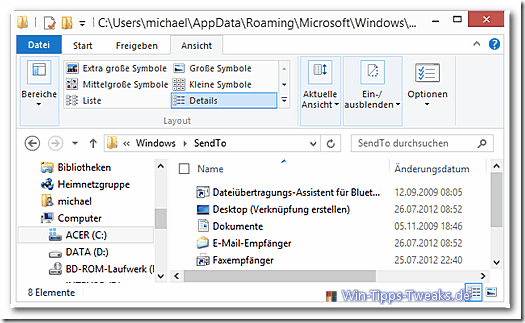 To add a new shortcut to a specific program or target, which can later be seen in the context menu, click with the right mouse button in the Explorer window and select "New> Link".
The corresponding program can now be searched for in a menu-guided manner (usually found under C: \ Programs) and a name for the link, which will later appear in the context menu, can be assigned.
In the example, a link to IrfanView, an image viewer, was added.
A right-click on a file now enables the context menu command "Send to"To send this file directly to the program and thus open it.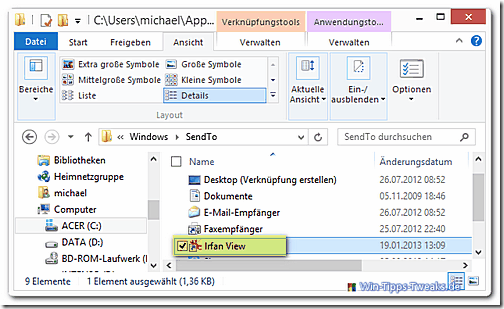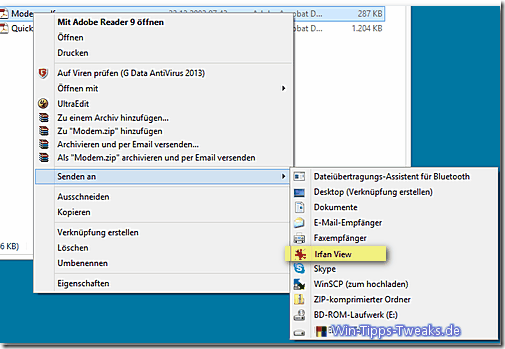 The other way around, the Send To menu can of course also be tidied up by simply deleting unneeded links, making it clearer and more practical.
See also:
Windows 7 improve the send-to menu
___________________________________________________
This tip comes from www.win-tipps-tweaks.de
© Copyright Michael Hille

Warning:
Using Registry Editor or its tips incorrectly can cause serious system problems that may require you to reinstall your operating system. Tampering with the registry files and using the tips is at your own risk.