Keeping an operating system afloat also requires precautionary measures, so it can never be too early to deal with how the system start-up under Windows 8 is and how you can influence it according to your needs.
In Windows 7, under msconfig (system configuration) in the system start tab, the obvious applications could be listed and deactivated accordingly. Here is shown how to use Windows 7 autostart and here under Vista ( Vista - Unroll autostart ) optimized. In the following article I will show you how to deactivate and activate autostart programs under Windows 8.
What almost everyone knows is a user's autostart folder, which can be reached quickly with the following command.
Win + r> shell: startup enter and confirm.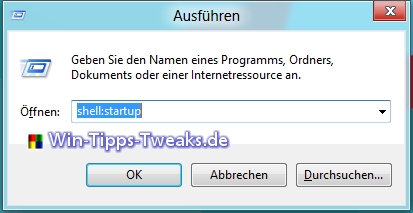 What was known before Windows 8 is the msconfig command, the reference under Windows 8 on the button manager.
The new task manager gives you the option of deactivating programs for autostart. A program can only be activated if the program has been deactivated beforehand.
Furthermore, you can quickly research the Internet via the application with the right mouse button or open the file path and display the properties.
Windows 8 measures how the application affects the system and shows it in the Startup Effect column.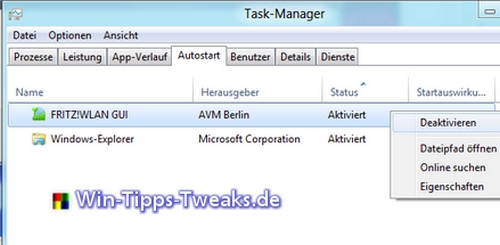 If you monitor the programs here at regular intervals, the Windows 8 autostart should remain fast.
___________________________________________________
This tip comes from www.win-tipps-tweaks.de
© Copyright Michael Hille

Warning:
Using Registry Editor or its tips incorrectly can cause serious system problems that may require you to reinstall your operating system. Tampering with the registry files and using the tips is at your own risk.