Partition Wizard Home Edition
Das kostenlose Partitionierungsprogramm macht das Partitionieren einfach. Partition Wizard Home Edition bietet auch in der Free Version viele nützliche Funktionen zum Thema Partitionen.
Partition Wizard Home Edition kann mit wenigen Klicks Systempartitionen erstellen, löschen, kopieren, verkleinern und formatieren. Das Tool gibt auch einige Tipps um Partitionen zu verstecken oder wiederherzustellen.
Es werden die Formate FAT, FAT32 und NTFS unterstützt. Leider sind die Menüs aktuell noch in englischer Sprache.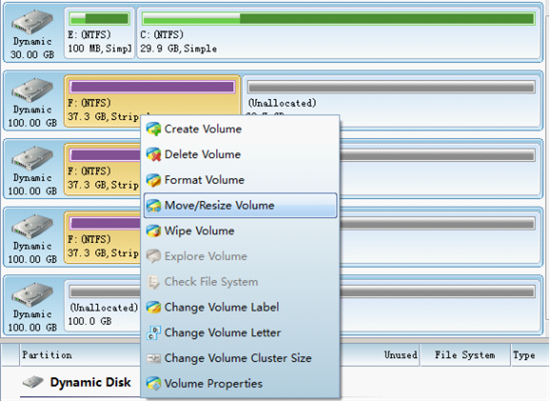 Hauptfeatures in Überblick:
Support Windows 2000/XP/Vista/windows 7 (32 bit & 64 bit) operating system.
Support RAID.
Extend system partition to maximize computer performance.
Manage the hard disk for substantial performance increase.
Create, Delete and Format partitions with simple steps.
Disk Copy to protect or transfer data.
Support disk and partition size larger than 2 TB.
Convert partition format from FAT to NTFS.
Partition Copy: Copy the entire content of one hard disk to another.
Copy Disk Wizard: Copy the entire hard disk to another without having to reinstall Windows.
Disk Map - Visually demonstrate your disk/partition configuration; preview the changes before applying.
Hide/unhide partition, set active partition, etc. - Change partition properties easily.
Explore FAT/NTFS partition.
Set partition as primary.
Set partition as logical.
Rebuild MBR.
Disk Surface Test.
Partition Surface Test.
Change Partition Serial Number.
Change Partition Type ID.
Hot Extend Partition without reboot. NEW!
Versionen im Überblick:
Partition Wizard Professional Edition:
Optimized for business environment with advanced features
Partition Wizard Server Edition:
Support Windows Server 2000/2003/2008
Partition Wizard Enterprise Edition:
Disk partition management solution for enterprise
ERROR_FILE
Partition Wizard Home Edition
Version
Lizenz
Autor
System
Kaufpreis
Dateigröße
7.1
Freeware
partitionwizard
Windows 7/Vista/XP
2000
-
10,5 MB