Freeware Fresh View ein Multimedia Viewer und mehr
Mit dem kostenlosen Tool FresView lassen sich Bilder-, Fotos-, Audio- und Videodateien verwalten sowie anzeigen und die Unterstützung der zahlreichen Dateiformate ist hervor zu heben.
So beschreibt der Hersteller sein Tool:
Fresh View gives you the ability to organize and view multimedia files (images, audio, video). Watch movies, listen to music, and view graphics in a slide show. Image files in a folder can be displayed using a number of views, including a thumbnail view that lets you quickly see what your images are without having to open them.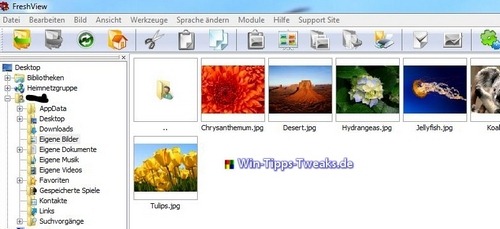 Musik hören, Videos und Bilder in einer Slideshow packen oder viele Funktionen mehr. Das Programm stellen wir hier ausführlicher vor.
Image formats:
Windows Bitmap (*.bmp), Windows Metafile (*.wmf,*.emf), JPEG Image (*.jpg,*.jpe,*.jpeg,*.jfif), CompuServe GIF Image (*.gif), Portable Network Graphic Image (*.png), Tagged Image File Format Image (*.tif,*.tiff), Photoshop Image (*.psd,*.pdd), TrueVision Image(*.tga,*.win,*.vst,*.vda,*.icb), Run Length Encoded Bitmap (*.rle), Device Independent Bitmap (*.dib), GFI Fax Image (*.fax), Encapsulated Postscript Image (*.eps), ZSoft Paintbrush Image(*.pcx,*.pcc), Word 5.x Screen Capture Image (*.scr), Alias/Wavefront Image (*.rla,*.rpf), SGIImages (*.sgi,*.rgb, *.rgba, *.bw), Portable Pixel Map Image (*.ppm), Portable Gray Map Image(*.pgm), Portable Bitmap Image (*.pbm), Autodesk Image (*.cel,*.pic), Kodak Photo-CD Image(*.pcd), Dr. Halo Image (*.cut), Paintshop Pro Image (*.psp)

Audio Formats:
WAVE Audio (*.wav), MP3 Audio (*.mp3), MIDI Audio (*.mid, *.midi, *.rmi), Vorbis Ogg Audio (*.ogg), AIFF Audio (*.aif, *.aifc, *.aiff), AU Audio (*.au), ProTracker Mod Audio (*.mod, *.mdz, *.nst, *.m15), Module Lists Audio (*.mol), Zipped Mod Audio (*.mdz, *.s3z, *.xmz, *.itz), ScreamTracker Mod Audio (*.s3m, *.stm, *.s3z), FastTracker Mod Audio (*.xm, *.xmz), Impulse Tracker Mod Audio (*.it, *.itz), MultiTracker Mod Audio (*.mtm), Octamed Mod Audio (*.med), Other MOD Audio (*.wow, *.669, *.far, *.okt)

Video Formats:
AVI Video (*.avi), MPEG Video (*.m1v, *.mp2, *.mp2v, *.mpa, *.mpe, *.mpeg, *.mpg, *.mpv2)

Icon Resources Formats:
Windows Icon (*.ico), Windows Cursor (*.cur), Animated Cursor (*.ani), Icon Library (*.icl), Executable File (*.exe), Dynamic Linking Library (*.dll)
ERROR_FILE
Fresh View
Version
Lizenz
Autor
System
Kaufpreis
Dateigröße
8.39
Freeware
FreshView
Windows 7/Vista/XP
-
2 MB