The free tuning program gets performance out of Windows computers. The tool is a more stable, faster and safer system program.
WinExpert has many wizards and thus less experienced Windows users can use the program well. It is clearly divided into categories and offers many system settings. In addition, WinExpert offers fine tuning and repair functions.
Optimize Windows with just a few clicks.
Minimum requirements: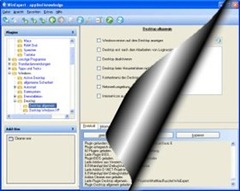 Windows 2000, Windows XP or Windows 2003 .NET Server

Microsoft .NET Framework 2.0 (Windows update or WinExpert + .NET Framework)

Screen resolution 1024 * 768

256 MB RAM

800 MHz processor

20 MB free hard disk space recommended
Windows 2000, Windows XP or Windows 2003 .NET Server

Screen resolution 1024 * 768

512 MB RAM

1600 MHz processor

40 MB free hard disk space

Internet connection for the monthly automatic updates
{jumi [plugins/content/jumi/ads_download.php]}
WinExpert

Version
License
Author
System
Purchase price
filesize
8.13.0
Freeware
WinExpert
Windows Vista / XP
2000
-
5,2 MB

Please rate this download
{vote 1}