Deactivate Cortana in Windows 10

If you can do without Cortana, you should simply deactivate this Windows assistant. And if you don't know exactly what Cortana is, you should take a look at this tip.
Cortana is the equivalent of Siri from Apple or Now from Google. Cortana is a digital assistant with speech recognition. The digital assistant Cortana creates with Windows 10 from the smartphone to the desktop. Cortana uses all available data such as location data, contacts, voice input, information from e-mails, browser and search history and much more. to provide suggestions and reminders to the user.
Deactivate Cortana in Windows 10
Click on the search field next to the Windows logo (on the left of the screen)
At the top left on Settings under Home
The slider on Off - the option "Cortana can offer suggestions, ideas, reminders, warnings and much more".
If you also want to switch off the web search, then simply set the additional option "Search online and include web results" to set the slider to Off.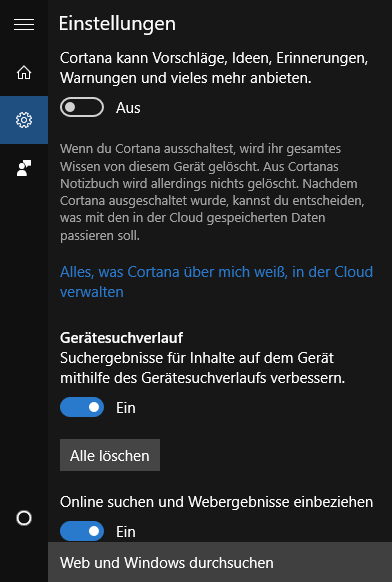 ck, January 31.01.2016, XNUMX
Other interesting tips:
___________________________________________________
This tip comes from www.win-tipps-tweaks.de
© Copyright Michael Hille

Warning:
Using Registry Editor or its tips incorrectly can cause serious system problems that may require you to reinstall your operating system. Tampering with the registry files and using the tips is at your own risk.