Set up Windows 10 speech recognition
One of the tools of Windows 10 that has received little attention is speech recognition.

It can be used to easily perform actions within Windows, start programs or execute various system commands.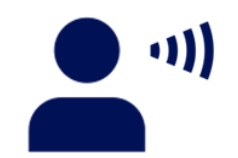 The function of simply dictating the text in suitable programs such as Word or Wordpad and watching how Word converts the spoken word into text is also interesting.

For example, text can be dictated to fill out an online form. Or you can dictate text into a word processing program like WordPad to write a letter.
Speech recognition is only available for the following languages: English (United States, United Kingdom, Canada, India, and Australia), French, German, Japanese, Mandarin (Simplified and Traditional Chinese), and Spanish.



Setting up Windows' own speech recognition

Call up the speech recognition using
Home >> All programs >> Accessories >> Ease of use >> Windows speech recognition
It's faster by opening the start menu and "voice recognitionType in ".
Already after the first letter appears in the selection "Windows speech recognition" on. Click and, if this has not yet been set up, the wizard starts. This gives hints what we can do with the voice control.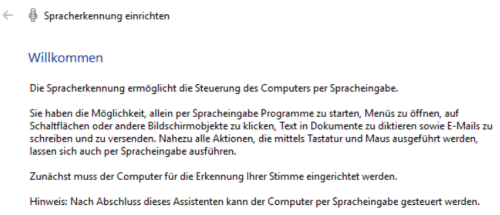 The next step is to set up the microphone. The choices are "Headphone microphone","table microphone"And"Others".
With a laptop, which usually has a camera and a built-in microphone, the selection of miscellaneous is sufficient.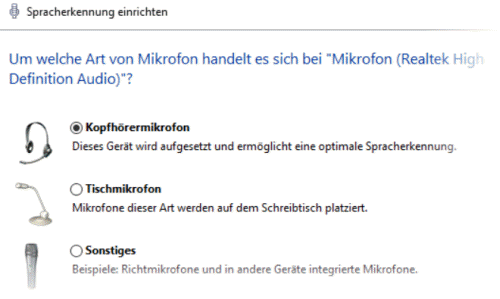 In the next step it is advised not to breathe directly into the microphone, to be close enough to it and to make sure that the muting is not activated.
Then a short text must be read out as a function test. This completes the setup of the microphone.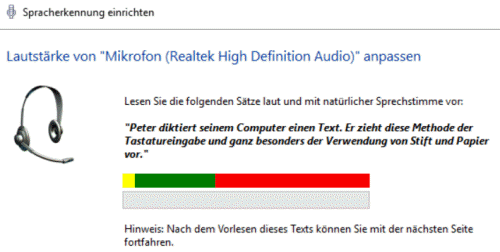 In the next step, the assistant offers to improve the accuracy of the recognition of spoken words by allowing access to documents, emails and the search index.
This is to improve the understanding of the speech input. Everyone has to decide whether this should be allowed or not. The option always has a bland aftertaste.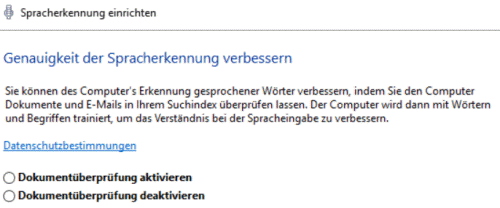 Then the Activation mode be determined.
Here you can choose between a manual start of the voice control or activation by voice.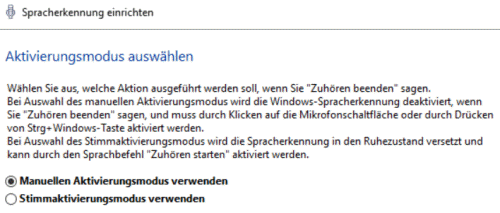 The voice control can handle a lot of system commands by itself. Since hardly anyone can remember this at first, the possibility is offered here of a so-called "Reference card " print.




At the end it is recommended to start the tutorial. Which is also strongly recommended.
The language has so many facets that no language program will produce sensible results without training on your own voice. In my case, untrained was actually just nonsense. With the training that only lasts a few minutes, the result was surprisingly good and the program keeps learning. It's really fun to work with once the first hurdles have been overcome. Fine for a free tool built into the system.


All options can also be found later in the
Control Panel> Ease of Use> Speech Recognition
call it up again or right-click on the voice control itself.


(mh)




Windows 10 tips recommendation


___________________________________________________
This tip comes from www.win-tipps-tweaks.de
© Copyright Michael Hille

Warning:
Using Registry Editor or its tips incorrectly can cause serious system problems that may require you to reinstall your operating system. Tampering with the registry files and using the tips is at your own risk.

tags: Windows 10, Voice control, Language, Text